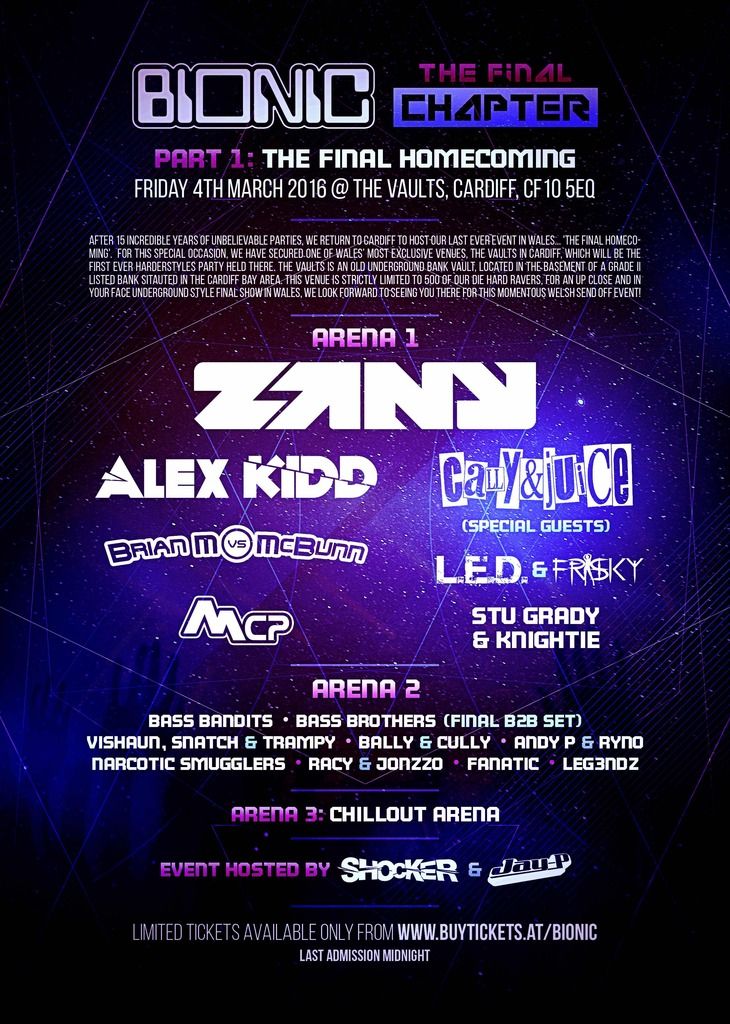 Info
Name:
The Final Chapter part 1 of 2
Organisation:
Bionic
Date:
04/03/2016
Time:
10pm-5am
Location:
The Vaults, Cardiff
Age:
18+
Ticket price:
£17.50
Get tickets at:
[url]buytickets.at/bionic[/url]
Website:
Lineup
AREA 1
Zany - Classix
Alex Kidd
Cally & Juice - (Special b2b)
Brian M vs McBunn
L.E.D. & Frisky
Stu Grady & Nite-E
MCP
AREA 2
Bass Bandits - exclusive reunion set
Bass Brothers
Vishaun, Snatch & Trampy
Bally & Cully
Andy P & Ryno
Narcotic Smugglers
Racy & Jonzzo
Fanatic
Leg3ndz
AREA 3
Chill out area
After 15 incredible years of unbelievable parties, we return to Cardiff to host our last EVER event in Wales... 'The Final Homecoming'.
For this special occasion, we have secured one of Wales' most exclusive venues, The Vaults in Cardiff, which will be the first ever harderstyles party held there.
The Vaults is an old underground Bank Vault, located in the basement of a Grade II listed bank. It is an incredible venue situated in the vibrant Cardiff Bay area. This real bank vault, underneath an old large bank is split into 3 Bank Vault Areas that will play host to our special event. We will have a Funktion One Sound System powering the night along with the usual amazing lasers and lighting you have come to expect at Bionic events, and a few extra surprises thrown in for good measure.
This venue is strictly limited to 500 of our die hard ravers, for an up close and in your face underground style final show in Wales, so be quick to get your tickets because this is likely to sell out in advance.
We have had a phenomenal demand to host an event here in recent times and it is with excitement that we are able to secure this party at one of Wales' most exclusive venues.
The best way to ensure you get all updates of our 2 final events is to sign up at
http://bionicevents.com/