Source:
Alive At Night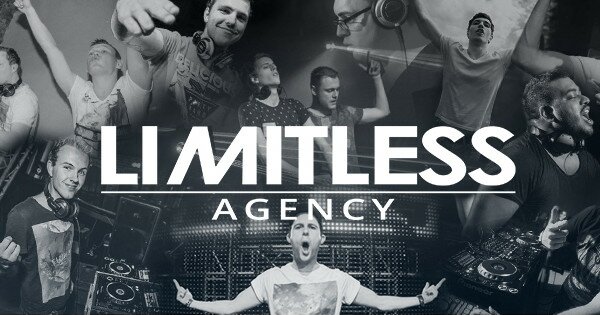 In the world of hardstyle there's much more to it than creative artists, parties from 9-7 in the morning, bangin' bass and slamming kicks. We all have a huge love for the music and respect for the artists, but what about the cogs in the working wheel behind the scenes? Without these people beyond the madness, many parties would not be possible, artists would go undiscovered and the scene as we know it today would be quite different.
Over the bridge and onto the business side of hardstyle, there are new developments from day to day and being involved in the hustle and bustle of it all is quite exciting!
One particular and exciting new development that was announced yesterday was the conception of "Limitless Agency," which is a brand new artist bookings and management agency which is owned and run by Pieter Heijnen (DJ Thera) and Ingrid Janssen (AKA, The Lady Boss). The decision was made to extend the formerly known Theracords Bookings into a broader heed for artists by beginning a separate bookings and management agency that is independent to Theracords. To explain the concept a little further, I had a quick chat to both Pieter and Ingrid about Limitless Agency, their plans for 2015 and beyond and of course, a behind the scenes look at the life of a bookings agent!
Hi Pieter and Ingrid! How are you guys today?
Hi! We are both very good for a Monday! :-) We have been mainly trying to work through all of our e-mails today!
Great! So first of all I know that you guys have some very exciting news about your newly launched artist management and bookings agency called "Limitless Agency," can you tell me a little bit more about it?
Pieter:
Well, at first we only had the label 'Theracords', but because of the success that we had we started up Theracords Bookings so that we could manage our artists and their bookings. Now that we are experiencing even more growth and we have a great office space, we feel as though it was time to expand our company. With Theracords Bookings, it was immediately linked to the label, however with Limitless Agency, there is a lot more space and freedom to work with a lot more artists. Theracords as a label will remain the same and it will not be conflicted with our artist and bookings management.
Ingrid:
First of all, we're really excited to launch Limitless Agency! Previously, Theracords bookings had specialised in bookings, however Limitless Agency specialises in artist management and bookings together. It's definitely opening up more doors and opportunities.
Sounds very exciting! How many artists do you have on board with Limitless Agency?
Pieter: We have 15 artists in total at the moment which is already an increase from our previous 12 artists at Theracords Bookings. To add to this, a lot of people see Theracords as a raw hardstyle label, which is fine of course, however one thing we want to achieve with Limitless Agency is not just a focus on raw hardstyle but hardstyle as a whole spectrum. We have three new artists: Alphaverb, Intractable One and a new duo called Ecstatic who have a very fresh, new and euphoric sound.
What about artists who have already signed to a label other than Theracords?
Pieter:
This is one of the reasons why we have separated the both. For instance, if an artist is releasing on Theracords, they don't have to be a part of Limitless and visa verse! Even if an artist has a very euphoric sound, we can still manage them without having them tied to releasing on Theracords. For example, Phrantic has management with Limitless but he releases some of his tracks on Hard With Style. It's not 100% necessary to have everything glued together and we want to have Limitless Agency as an independent and new name.

What options does this open up? Where do you see limitless in a few years time?
Pieter:
We really hope to see Limitless Agency as one of the leading agencies in the hard dance music spectrum, focused on hardstyle. We just want to keep growing and have more successful artists who can play internationally.
How does Limitless help its artists and party organisations?
Pieter:
We love to have a good working relationship with our artists and have a family feeling to everything that we do, it's easy for our artists to get in touch and have open conversations with us about their career. If an artist has great music and a cool thing about them then it's always a pleasure to work with them. In the end you all work together to be as successful as possible because there's more to it than just music.
Ingrid:
For party organisations, we can offer them artists to play at their events, which is something that happens behind the scenes. For example, an organisation may come to us and ask Limitless to either host a stage or create a line-up. There are many organisations who have focused their festivals around other genres of music and if they want to add in a hardstyle stage they can come to us and ask for our expertise in creating a line-up with artists from many different agencies and labels.

So Inrgid, I have some questions for you now. So you are running bookings at Limitless Agency, can you tell me a little bit about running a bookings agency?
Ingrid:
Wow, that's a hard question because every day is different! Most days you have basic tasks such as administration, answering e-mails and so forth. There's lots of aspects involved in the job and its very important to stay organised and make sure that all websites and social media are updated as well as keeping good connections with organisations. It's fun to work with different tasks everyday and also work alongside great people in the office.
What are some challenges that might come up when booking artists?
Ingrid:
In The Netherlands one challenge is exclusivity. By this I mean that there are always front-running and very popular artists in the agency who may have a number of bookings per weekend in which the organisations require exclusivity from them. For example some organisations request that they cannot have another booking in The Netherlands that weekend or another booking within 150KM. To add to that, if an artist has three bookings in one day you have to always make sure that they have enough time to travel between bookings. Festival season can be extremely busy and sometimes some artists are unavailable for a booking. It's my job to make sure that I can come up with a suitable artist as an option for them. There's a lot involved in bookings but it's a very exciting job! :-)
A huge thanks to both Pieter and Ingrid for chatting with me today! We cannot wait to see the developments of Limitless Agency over time and we wish you guys the very best in this coming year!
Website:
http://limitless-agency.com/
Facebook:
https://www.facebook.com/limitlessagencynl?fref=ts