Source:
Alive At Night
When Tim Van De Stadt got signed to Scantraxx in 2012, things just skyrocketed from there. Constant ups & downs have made career of this hot shot one to follow closely. "Madman"? Not so much. Behind 'Atmozfears': a fascinating young man with a thing for technical perfection and an intriguing personality. We spoke to Atmozfears about inspiration, Atmo, Carnage, breakfast at 16h, the past and the future.
Hey Tim, thanks for taking your time! Introduce yourself to us and our readers!
Hey peeps! My name is Tim, also known as 'Timmeh', and I cover the production of a wide series of genre's under multiple aliases, but I am mostly known for my work as 'Atmozfears' producing hardstyle.
'Singularity' is one of your most 'technical' tracks so far. Tell us a bit more about the idea behind it and how the track was born!
Well, the title itself gives away a little. I quote; "the Singularity is an era in which our intelligence will become increasingly nonbiological and trillions of times more powerful than it is today—the dawning of a new civilization that will enable us to transcend our biological limitations and amplify our creativity"
Stuff like this really inspires me, I can spend nights and nights just googling my ass off about stuff like this, and when I stumbled upon this I started messing around with a vocal, and that's litterally everything I used to sounddesign this track (except for the technical elements like the kick). I spent around 40 workhours in the studio messing around with it, motivating myself to do something different from what I normally do, and I think it turned out great!
You come from quite a musical background. Tell us a bit more about it and how does this influence you and your music?
True! My mum is/used to be a professional opera singer and my parents forced me to take piano lessons from an early age.. Also spent half my youth going to a boys-choir which I hated.. but all I can say is that I am thankful to the end of the earth for it now! I literally know every single 'possible' chord progression thanks to this, and a lot of other technical nonsense which comes in handy from time to time.
You often also take inspiration from other music genres. What inspires you right now?
I'm currently hooked by some of the slower, chill stuff… Like Kygo. It's just something about that style that is magic!
Speaking of other music genres: You were also quite active under your alias "TVDS" at Monstercat. What ever happened to that? Any plans to release under TVDS again?
Not really. TVDS is gone. I had a good run doing some 'random' tunes, but I lately music has become a little more serious and I don't want to waste good tunes on just 'releasing' them, I actually want to do something with it, and that's why I just 'changed' that alias to 'ATMO', where I have one of my best buddies performing on stage. You'll see some new tracks appearing this year!
You love to collaborate! 'Madman' (with Subzero Project) and 'Reawakening' (with Audiotricz) are just examples of what you did with other artists recently. Any other big collabs coming up?
Oh yeah! I have this 'special' bond with Leon and Kenneth (Audiotricz), currently rounding up another collab with them.. Also working on stuff with Adrenalize, Code Black, Toneshifterz, Energyzed and some which I won't tell you about yet. Gotta keep stuff interesting, aye? :-)

A certain tweet on your Twitter feed caused quite a speculation online if you'd be collaborating with DJ Carnage? Can you silence these rumors?
Haha, rumours? We confirmed it a couple of times.. We just finished up our first collab.. You read that right, 'first'. He's a really swell dude and he supports the hell out of me in the States.. and our collab turned out awesome!
You just played HardBass and Qlimax. How did you experience those big events?
It's indescribable. Realising there were 25000 people standing in front of you, dancing with you, screaming towards you.. One has to experience to understand, and I still can't put into words how it feels when you see 50000 hands in the air synchronised to your music..
For those who didn't know: Atmozfears first started out as a trio. Are you still in contact with Michael and Kevin? What happened to them?
Haha, yes, funny story actually, I just had a gig in Vancouver and met up with him. We (me and Kevin) spent the entire weekend together, like old times. I've lost a bit of contact with Michael as he travels around alot, last thing I remember is he was in Barcelona, working for Facebook. Kevin is actually working really hard on new music, can't wait to hear what he brings!
In just a few years you reached almost everything one can have in the Hardstyle scene: Are there still any goals for you? Where do you see yourself in four years?
I hope to see myself still doing what I love most, and that is having fun making music. Sometimes along the way you forget to actually 'have fun' because your passion becomes your work and you 'have to do it'. That's why I get back into other genre's and produce whatever comes to mind, to stay sober and remain thankful for whatever happened to me the last couple of years. There has been a lot of personal struggle and I'd love to see myself in a happier place in four years. As for goals, there is one constant goal for me and that is to make people happy with the stuff I love to do, making music… and I'd love to host a thrillogy / x-qlusive somewhere along the ride!.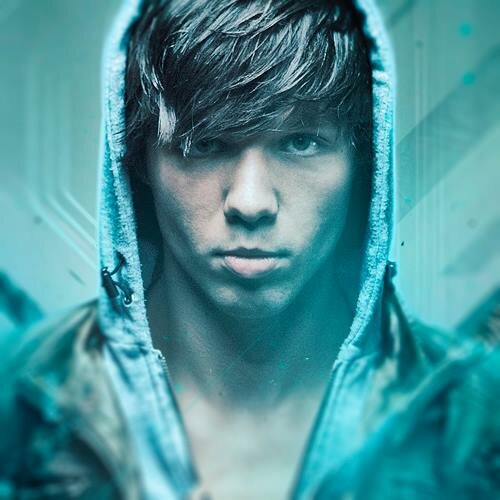 Any upcoming gigs you can talk about right now?
Yeah! Bass Modulators, Audiotricz and me have a special hosting coming up, called 'THREE' with the headliner of tommorow. It's the first time any of us have a special night to ourselves, which is really exciting. A good step towards your own thrillogy / X-Qlusive, I guess!
You're a 'big player' in the scene now, are there still people you look up to within the scene?
Haha, 'big player'. I don't like to talk about myself like that, as my personality is really introvert and kinda shy actually. People love to confuse being shy with arrogance, which are absolute opposites. There are a lot of people I still look up to, like Noisecontrollers, Headhunterz, Code Black.. the list goes on forever. They've paved the way for us 'newcomers', brought Hardstyle to a level no one could ever dream of..
And are there any newcomers we should watch out for right now?
Absolutely! There is a lot of talent around the corner, definitely keep your eye out for producers like Cyber and Devin Wild. You will hear a lot from them, I promise you!
People are asking us about 'Release' too a lot! Any idea when it will be released?
Don't even get me started, haha! Every single post I do, there's atleast two or three people asking about it. It's been a big request and I'm working really hard to get some beautiful video done for it.. which seems a little harder than I expected. I also made a 'chill' edit of it, which I will release, too.. When? Soon.
And of course: What did you have for breakfast?!
My breakfast (if you can call it that at 16:00) was three eggs and some chicken thrown on top..
Oh yeah, and Redbull. Don't forget the Redbull :-)