Meet Frenchcore's iconic boy-wonder Sefa!
Most 16 year olds spend their weekends playing sport, prank calling people or raiding their parents' liquor cupboard – but for rising Frenchcore superstar

Sefa

, this is totally not the case. Beginning his production journey at the exceptionally young age of ten, from then on, as a serious of incredible events snowballed into Sefa becoming one of Frenchcore's most promising artists. Juggling school with music, Sefa has managed to cultivate an astonishing discography, containing tracks such as

"LSD Problem"

with Mr. Ivex,

"This Life Is Lost"

with Dr Peacock and

"Singing A Song."



Last week, I had an inspiring Skype interview with little Sefa, who shares his sentiments on entering the music industry at such a young age, his supportive parents and of course, the story of how he 'accidentally' met Dr Peacock. Sefa also has some big news to share, so read on as I pick the brains of this intelligent youngster!
– Hey Sefa! What's been going on today?!
Well, I woke up quite late at around 10AM then went to school. I only had one hour of class, so afterwards I went to get a kebab with some friends before coming home and preparing for this interview! It's been a pretty relaxed day and later on this afternoon I'll produce some music.
– First of all, at 16 years of age you're already signed to the biggest Frenchcore label Peacock Records and have made your mark on the scene with your innovative signature sound. How does it feel to have experienced a career that's taken off so fast?
Of course it feels amazing and I can't even describe how lucky I am to have received immense support from my colleagues, the organisations and the Frenchcore listeners around the world. To have had the opportunity to perform at Decibel and Q-BASE, as well as be placed on the line-up for Masters of Hardcore and Defqon.1 is a dream come true; it's been a great start for me and I hope that I can continue on this path.
– You're also still in school? Do your classmates ever brag about being friends with you?
??
Hahah, well… Not really… I try to remain silent about my music career at school – it's not something I particularly like to boast about, as it's my own thing. However, some people at school did find out about my career, but when it comes to my close friends nothing has changed – they know that I'm still myself.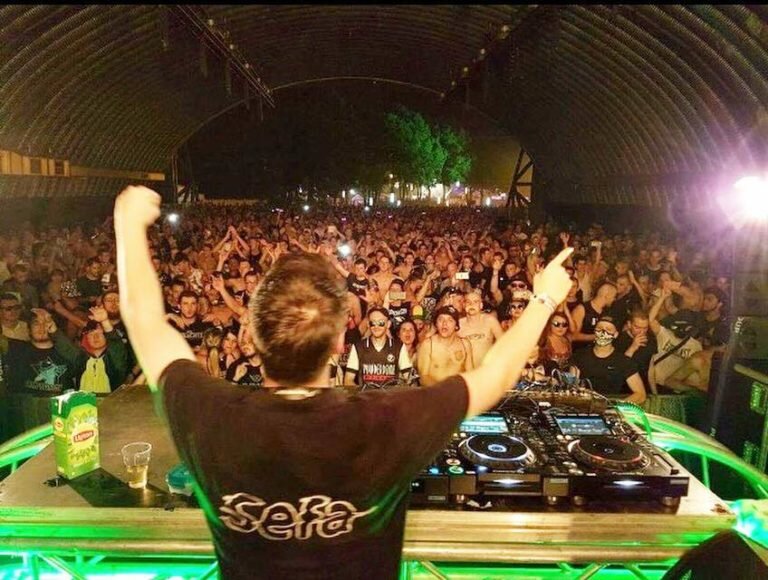 – What are some of the biggest difficulties you have with balancing school and music?
Time management is definitely one of the biggest obstacles I face. Some days I have eight hours of school and when I come home at around 4PM I have to produce music, have dinner and socialise with my family, do homework and also get to bed at a reasonable hour as my alarm is set for 7AM. Overall, aside from exam periods being quite stressful I don't have any real problems with balancing my schoolwork and music obligations. I'm in my final year of school, so once I get past my final exams I'll have a lot more free time.
Another difficulty I have is, in some instances, bookings. For example, if my agency receives a request for me to perform on a Friday we have check the logistics of it, especially the time, as I cannot miss any classes. Sometimes there's some difficult decisions regarding bookings and at times my agency and I do have to unfortunately turn some down as I don't want to become over stimulated by it all. But ultimately it's not too difficult and things are working very well.
– Do you abide by a schedule?
I do my homework only when I want to, haha… No, I don't have a particular schedule; I do what I want when I want, as long as it doesn't compromise my schoolwork. It's worked out quite well for two years already, and as long as my grades remain good then everything else can stay balanced.
– When you finish school do you plan on continuing your studies at university?
I would like to continue studying if I find the time to do so. For me, school is a plan B and I'd really like to have something to fall back on in case music doesn't work out. I don't know what I'd like to study at university however – I'm not a maths or science guy, but I'm quite fascinated by sociology and psychology.
– What do your parents think of your career as a DJ and producer?
Well, because I've been making music since I was 10 years old, they've watched me grow and develop, as well as see my career become more serious. My parents have always supported me in every way they can and I'm eternally grateful for that. They've accepted that this is my passion and have given me encouragement. For example, when I received a booking scheduled for 5AM, most parents probably wouldn't allow that, but my parents said yes. They know that music for me is my biggest passion and it's my job, meaning that I'll behave myself.
– And what do they think about Frenchcore?
They always like my Facebook posts, so I suppose that's pretty cool, haha. But no, I don't think they really like the music, but they understand that I like it and that's all that matters…
– Does it drive them crazy to hear you constantly experimenting with Frenchcore kicks in your bedroom?
They actually never hear me produce, because unless I'm making a video for Facebook I keep my monitors quite low. I used to produce music loud enough that the police visited my house twice, so I'm not going to do that again, because on the third warning they'll confiscate all of my equipment!
– Do they ever get worried about you being at parties and hanging around with older people?
Well, not really because they know I'm a good boy and that I stay away from alcohol and drugs. My parents also understand that I've always preferred hanging out with older people; they trust that I'll behave myself and also know that I take my career quite seriously. When I have a booking, most of the time I only go to the event for an hour, play my gig and go home – I go to gigs to perform, not to party. I love going to parties, but it's my job as a DJ to give it my all, and I know I can't do my best if I don't behave myself…
I definitely have one of the most unique artist riders – I always request a bottle of green iced tea, haha! I don't drink alcohol, nor do I like soda with bubbles. At Q-BASE they got me a huge two litre pack of iced tea and at Decibel they thought that my rider was so special that they arranged me a second one to take home!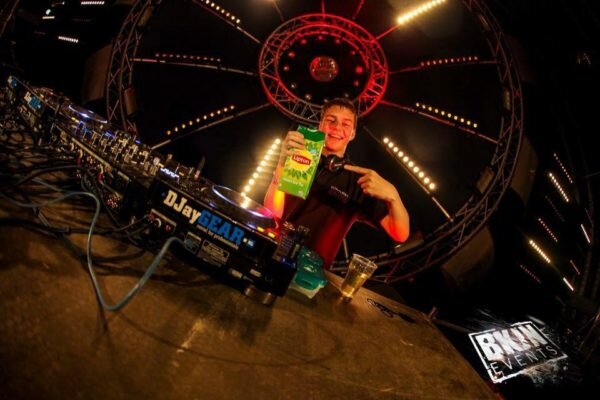 – As a DJ and producer, you probably have very different interests and priorities to your classmates – does this ever get difficult for you?
Yes it is, but throughout my whole life I've never really identified with people my age anyway. From the age of 10, my biggest interest has been sitting in my room and making music. My friends are used to it; they respect my priorities and also don't pressure me to go out with them to do 'normal' 16 year old stuff.
Something funny to mention is that during our lunch break at school we can customise the music that's being played; one time a bunch of classmates put on my music and everybody went crazy, haha!
– Alright, let's step back a few years. What was it that drew you to Frenchcore in the first place?
I actually started with producing Hardstyle, which I focussed on for a year and a half before I 'accidentally' met Dr Peacock…
Steve lives about five minutes away from me and one night my parents met him at the local club and began speaking to him. Then my mum was like "Oh, my son actually produces music, do you want to meet him?" Steve agreed, so I began checking out some of his music. I immediately felt the insane energy in his music and everything from the sounds, the break and the build-up simply blew my mind! I thought to myself "this is so much better than Hardstyle" and instantly began producing Frenchcore!
– As a part of Peacock Records, you're fortunate enough to have gun-producer Dr Peacock as your mentor. What has it been like to be part of this family and to work closely with him?
When I was 11, I sent Steve my first track and after continuously working on and developing my sound, he invited me to release on Peacock Records. Signing to Peacock Records was one of the biggest accomplishments for me; I mean, it's THE biggest Frenchcore label around! Dr Peacock has supported me from the very beginning and has not only helped me with musical opportunities, but also brought me into contact with my bookings agency BKJN.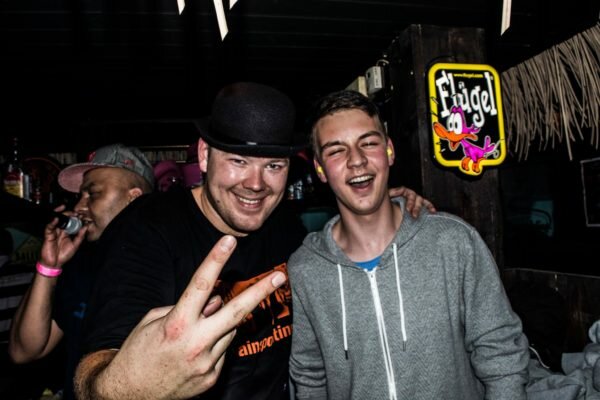 – So, my absolute favourite track at the moment is your collab with Mr. Ivex "LSD Problem." Can you speak a little more about this track, its inspiration and of course, the vocals?
Yeah, sure! So, it all started when Mr. Ivex sent me a Facebook message asking for a collab. He then sent me the melody after the second break and a small part of the kickdrum and I was instantly sold! I began working on the track and just couldn't stop – we actually finished the entire thing within three days.
The vocal itself is from a video posted on Psyched Substance, which is a YouTube channel about a guy who experiments with various psychedelic substances. I began watching some videos from the channel for fun and see what it's like to watch somebody trip live. I came across one Q&A video where he describes his craziest trip ever; he ends up in the hospital and the main line is when the doctor asks "do you think you need help with your LSD problem?"
– "LSD Problem," along with your other productions is quite energetic and uplifting. What's your stance on creating Hardcore that's hard and fast, but also melodic and catchy?
Well, as I mentioned earlier, I come from a Hardstyle background and I've always kept that with me, meaning that I like to incorporate quite a lot of melodic content, but with the typical Frenchcore kick and drive. For me, it's important to create tunes that have a really hard, rough kick, but also with an uplifting melody. As long as people can dance to my music and I'm able to pour my creativity into it then I'm happy.
– Over the past year or so, Frenchcore has become extremely popular. What are your thoughts about this, and where do you see the genre going in the future?
I'd like for Frenchcore to continue growing and developing at the rate it is now. I like hearing that the genre is becoming more musical and acceptable than it was about five years ago. I still love those older tracks, but the direction Frenchcore is heading at the moment is more in-line with my style. Ultimately the fans can decide what they want to support, however I have noticed that melodic and recognisable tracks like "LSD Problem" and "Singing A Song" are doing really well!
Frenchcore is quite a liberal and versatile genre, which is what I like about it. You can derive inspiration from just about anything, meaning that you can use aggressive vocals from a Rock song, or conversely, use something from a Pop song. As long as it has a certain type of sound, a good kickdrum and is around 200BPM!
– As an artist that newcomers can relate to, do you have any tips for youngsters who are looking to get signed or make themselves known?
Well, first of all, newcomers should always create their own recognisable sound – no one wants a copy of another artist who's doing really well… You should also associate yourself with artists who are more developed than you, as this keeps you humble and motivates you to improve. Aspiring producers should find an artist who's going to support their music – it's impossible to grow without having somebody backing you up.
– Alright, before we wrap things up – can you let us in on any cheeky exclusives?
Yeah! I actually waited for this interview to announce this piece of news, but I'm working on my first album! It's set to be released at the end of the year and contains some brand-new tracks, as well as some tunes I've previewed on my Facebook recently.
Of course, my set at Masters of Hardcore will be really unique and full of new tracks and DJ tools. I've been given a great timeslot and even just thinking about this event is making me so damn excited!
Also, it was recently announced that I'm performing at Defqon.1, which is amazing! This past year has been so crazy; my first gig was in July 2016 and since then I've had so many fantastic opportunities, including bookings at huge festivals in The Netherlands, but also some abroad.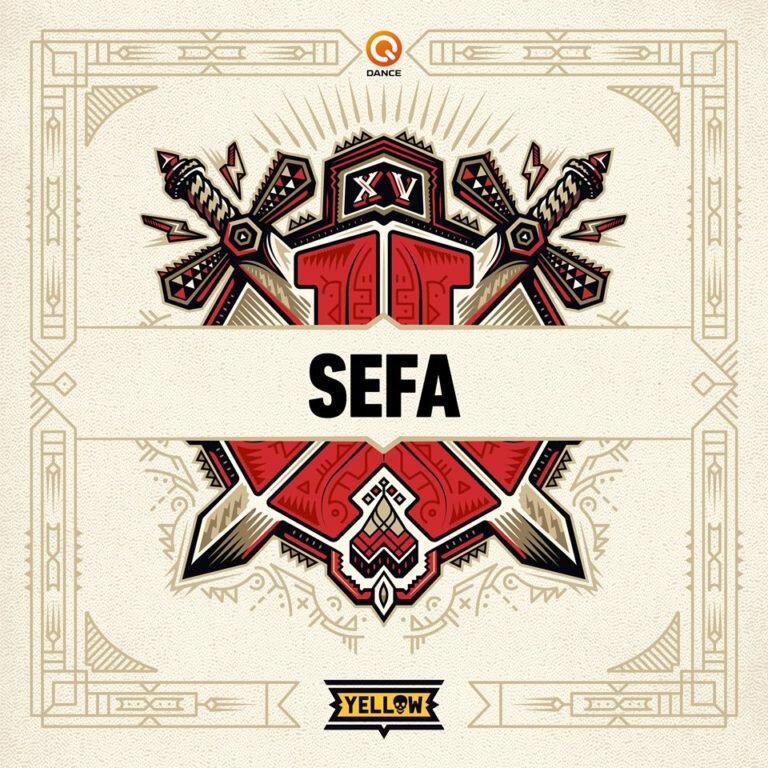 – Finally, here at AAN, we have one long-standing classic question. What did you eat for breakfast today?
I was already looking forward to this question, but I didn't even eat breakfast today, haha! The first thing I ate today was a kebab – I'm young, so I guess I can get away with it!
Big thanks to Sefa for this interview. We really enjoyed catching up with him and are totally impressed by his solid work ethic and rapidly growing career! We wish Sefa all the best with his album preparations and can't wait to catch one of his sets during this festival season. To stay up to date on Frenchcore's newest asset, be sure to follow Sefa at the social links below.
http://alive-at-night.com/meet-frenchcores-iconic-boy-wonder-sefa